Chit Chat and promos to help you save
By Her Savings on November 27, 2013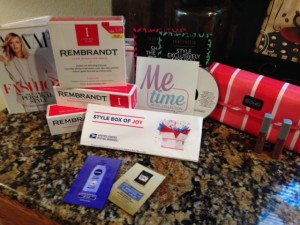 If you were able to sign up for the USPS My Style Box Of Joy that I posted about here (no longer available), then your box should be arriving soon if you have not received it yet!
By Her Savings on November 10, 2013
By Her Savings on November 3, 2013
By Her Savings on October 31, 2013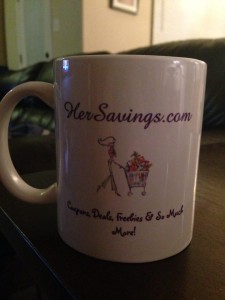 I hope all of you are taking a moment this morning to sit and enjoy a cup of your favorite morning beverage!  For me, the first sip of coffee in the morning is bliss – especially when it's in my favorite mug!!  I have a super busy day today – my youngest son Kevin's school Halloween party, getting the house ready for Kevin's birthday party this weekend (my baby is turning 8!!) and preparing for Trick or Treating tonight!  Busy – but fun!!

So I am trying to take a relaxing moment while I can!!

By Her Savings on October 31, 2013
By Her Savings on October 27, 2013
By Her Savings on October 20, 2013
By Her Savings on October 18, 2013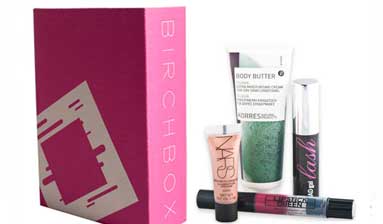 I am actually really excited about this!!  I absolutely love surprises and love trying new products, and when you sign up with Birchbox, you can do just that!  So yes, for only $10.00 a month, I am going to spoil myself!!  I deserve it!
If your part of the Sephora VIB or Beauty Insider program, for every dollar you spend you get one point. $100=100 points.  At Sephora you can pick out one deluxe size sample for every 100 points. Think about that!! Essentially you're having to spend $100 for just one free sample. With Birchbox you pay $10 a month and get five! Yes please!
Birchbox is a monthly membership service. It costs $10 a month-there are no shipping or handling fees for the monthly Birchbox and you receive 4-5 deluxe size beauty samples from high-end brands such as NARS, Deborah Lippmann, Stila, Phyto, Pangea Organics, Kate Spade, Juice Beauty, Zoya, and Too Faced. There are even plenty of opportunities to earn points along with way. You can cancel the service at any time so you really are under NO obligation, although I don't know why you would cancel!
Each month you'll receive a different mix of beauty products, including makeup, skincare, fragrance, body, and hair products.  All samples are deluxe sized!
And to make this even sweeter is the Birchbox Points program, which rewards you for signing up for the monthly samples, shopping on Birchbox.com, referring friends to the program, and sending feedback on your samples. The points that you earn can be used to purchase full-size products at Birchbox.com!
For more information, click below where it says 'Read the rest of this entry')!
By Her Savings on October 13, 2013
By Her Savings on October 6, 2013

HerSavings.com is a cheerful and rewarding blog devoted to helping you save your hard earned money. Together, we will explore the best deals that will help us save more, spend less...and have fun doing it! So, grab yourself a cup of coffee, get comfortable and let the saving begin!
Read More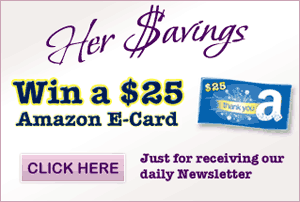 Albertsons
Bath & Body Works
CVS
Fred Meyer
HEB
Kmart
Kroger
old navy
Publix
Rite Aid
SafeWay
Target
Walgreens
Walmart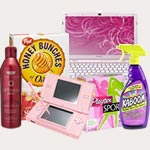 Daily Alerts
Welcome to HerSavings! If your new here, make sure you sign up to receive our Daily Newsletter! By signing up for the HerSavings.com newsletter, you will always stay up to date on the latest deals, coupons and freebies that are available! Sign up today and never miss out!