Coupons and deals to help you save
By Stacy on June 23, 2018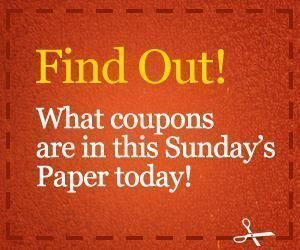 Here are the coupons that may be available in your Sunday paper.  Please note that the coupons are determined by location and not everyone will receive the same coupons.
There will be a total of (2) Inserts in this Sunday's paper:
(1) SmartSource
(1) RetailMeNot (RedPlum is now RetailMeNot)
For the list of coupons, click here.
You can also print coupons online from these great coupon sites: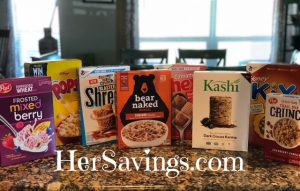 Hi folks!  If you are headed to your local Walmart soon, make sure you check out the cereal aisle!  My local Walmart has various brands of cereal on clearance for just $1.00!!  Most of these cereals originally cost over $3.00 each, so that's a great saving!  And if you have any cereal coupons, now's the perfect time to use them!
Please note, not all Walmart stores offer the same sales, same items on sale, nor the same prices, but it might be worth checking your store's clearance section next time you're there!
Here's a list of cereal coupons that are still available.  Just click on each image to be taken directly to that coupon: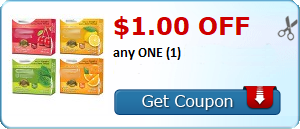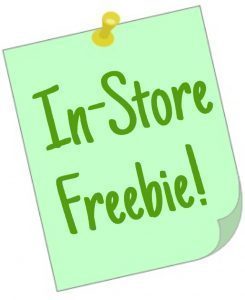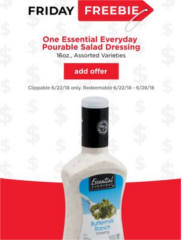 Attention Hornbacher's, Shoppers, and Cub Stores Shoppers!
Simply create or sign into your account to load your FREE Essential Everyday Pourable Salad Dressing (16oz., assorted varieties)!  Please note these eCoupons are available to load today only (6/22), but the eCoupon doesn't expire until 6/28/18.
Click on your store's link below to get your offer:
Hornbacher's:  (located in MN and ND)
Shoppers:  (located in MD and VA)
Cub Stores:  (located in IL and MN)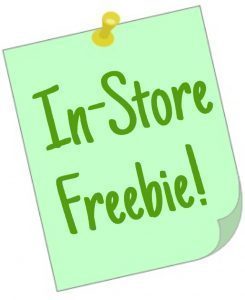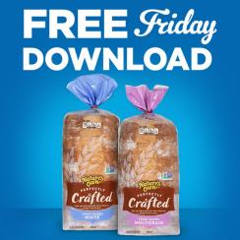 Attention Kroger (and affiliated stores) Shoppers!
Right now you can log into your store account to load an eCoupon valid for a FREE Nature's Own Bread or Dave's Killer Bagels product (varies by region!  Coupon is available to load today only (6/22), and is valid through 7/8.
Stores included in this offer: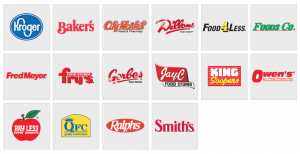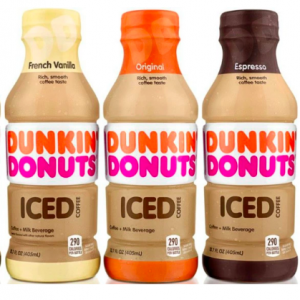 Today only, June 21st, you can score a coupon for a FREE Dunkin' Donuts Bottled Iced Coffee! Simply click on "email us" or send an email with your name and address to request your coupon to: bottleservice@dunkinbottleservice.com
Remember to check your email after you send your request because they will email you back requesting your address!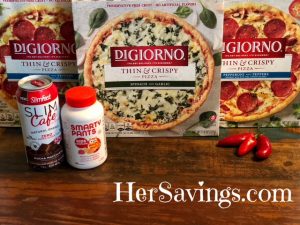 I went to Walmart to use my $6/3 DiGiorno Pizza coupon (still available!) and to snag my free items via free product coupons that I had!  I want to point out that you do not have to use the $6/3 DiGiorno Pizza coupon at Walmart, nor do you have to use it on this particular style of DiGiorno pizza.
So here's what was in my basket:  The pizza (3) which was priced at $3.50 each, Smarty Pants Gummies were priced at $11.88 and the Slim Fast drink was $2.48. My total after coupons came to $4.50!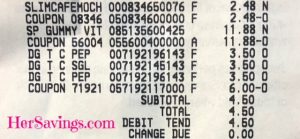 Click here to see my post about the Walmart Pizza Deal, which is still available!
I received the coupon for the free Slim Fast drink form PINCHme.  The next round of FREE Samples via PINCHme will be on July 17th, so make sure you are ready!  To learn more about PINCHme, click here.
And last but not least, I scored the coupon for a free bottle of SmartyPants 90ct Multivitamins from Social Nature, which sadly, the offer is no longer available.
By Stacy on June 20, 2018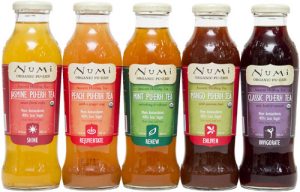 Attention Ralphs Shoppers!
For a limited time, you can possibly load a coupon on your card valid for a FREE Numi Organic Bottled Tea, any variety or size! This is valid only at Ralphs stores and must be redeemed by July 12th.
By Stacy on June 20, 2018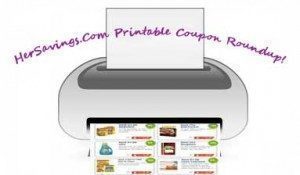 Here is today's list of the latest coupons available on Coupons.com!  You can click on each link to be taken directly to that coupon.
Save $2.00 any ONE (1) Enfagrow Premium™ Toddler Next Step™ Liquid
Save $3.00 on ONE (1) Enfagrow Premium™ Toddler Next Step
Save $0.75 off any TWO (2) DOLE® Canned Fruit 15oz or 20oz
Save $1.00 on ANY TWO (2) Tai Pei® Entrées or Appetizers (Up to 14.2 oz.)
Save $1.00 On any ONE (1) bag or box of Crunchmaster® products
Save $1.00 On any ONE (1) bag or box of Crunchmaster® products
Save $0.65 off any TWO (2) DOLE® Canned Fruit 8oz or 11oz
Save $1.25 on any ONE (1) O, THAT'S GOOD! Refrigerated Soup, Side or Frozen Pizza Product
Save $1.00 on any ONE (1) Uristat®
Save $10.00 on ONE (1) Culturelle® Women's Healthy Balance product
Save $1.50 on any one Clorox 2® or Clorox 2® Free & Clear product (excluding pen).

HerSavings.com is a cheerful and rewarding blog devoted to helping you save your hard earned money. Together, we will explore the best deals that will help us save more, spend less...and have fun doing it! So, grab yourself a cup of coffee, get comfortable and let the saving begin!
Read More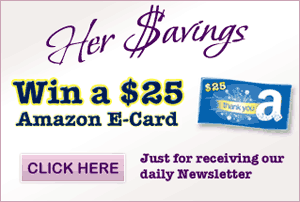 Albertsons
Bath & Body Works
CVS
Fred Meyer
HEB
Kmart
Kroger
old navy
Publix
Rite Aid
SafeWay
Target
Walgreens
Walmart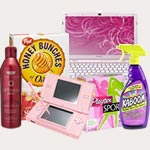 Daily Alerts
Welcome to HerSavings! If your new here, make sure you sign up to receive our Daily Newsletter! By signing up for the HerSavings.com newsletter, you will always stay up to date on the latest deals, coupons and freebies that are available! Sign up today and never miss out!