Blah Blah Blah and promos to help you save
By Her Savings on November 27, 2013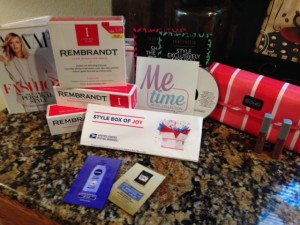 If you were able to sign up for the USPS My Style Box Of Joy that I posted about here (no longer available), then your box should be arriving soon if you have not received it yet!
By Her Savings on October 31, 2013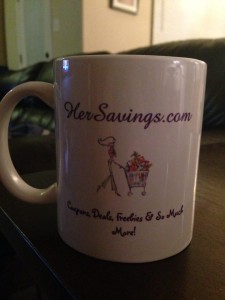 I hope all of you are taking a moment this morning to sit and enjoy a cup of your favorite morning beverage!  For me, the first sip of coffee in the morning is bliss – especially when it's in my favorite mug!!  I have a super busy day today – my youngest son Kevin's school Halloween party, getting the house ready for Kevin's birthday party this weekend (my baby is turning 8!!) and preparing for Trick or Treating tonight!  Busy – but fun!!

So I am trying to take a relaxing moment while I can!!

By Her Savings on October 31, 2013
By Her Savings on September 5, 2013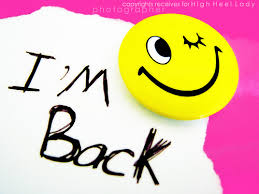 Hi HerSavings readers!  I want to first start off by saying that I have missed you all!!  Thank you to all of the readers who sent me such sweet and heartwarming emails – I missed HerSavings just like all of you, and I could not wait to get back to posting freebies and savings!
These past few weeks have been trying for me health wise, I have been in and out of the hospital, trying to figure out what in the world is going on with me.  The wonderful doctors who took care of me, figured out I was having a really bad reaction to a blood pressure medicine that I was on.  They also found out that I am now a diabetic.  So when you add all this to the Intracranial Hypertension (Pressure in the brain) that I have had for the past 15 yrs, I was in poor shape.
The good news is that I am doing so much better!  I have a wonderful support system with my family and friends, so I feel really blessed!  Thank you to all of you for your understanding and continued support of HerSavings.com, you all make the site worth doing!
Now, lets get busy, I have a lot of catching up to do!!
By Her Savings on May 2, 2013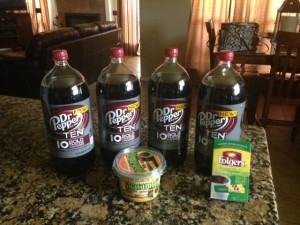 I was out of Dr. Pepper (scary I know!) and needed Guacamole for the fajita loaded baked potatoes I was making for supper (so yum!!).  I also needed to pick up some decaf coffee for when my Mom visits,  so I made a quick trip to Walmart and used a few of my coupons.  Here's what I bought:
4 Dr. Pepper 2-liters @ $1.18 each

Folgers Instant Coffee Sticks @ $1.00

Yucatan Guacamole @ $3.98

Coupons I used:
(2)  Buy 1 Get 1 FREE Dr. Pepper TEN 2-Liter coupons ($1.99 Value) (Still available!!)
(1) $1.50/1 ANY Folgers Product coupon  ($0.50 moneymaker!) (Still available!!)
(1) $4.00 Yucatan Guacamole Coupon (No Longer Available)
And since Walmart allows overage,  I was able to get all items for a total price of only $0.22!!

But,  you can still snag (4) 2-liter bottles of Dr. Pepper 10 & (1) Folgers Instant Coffee Sticks pack  for only $0.24 after coupons!!
You can view and print the Walmart Coupon Policy online. I suggest printing it and take it with you, just in case you need it at the register.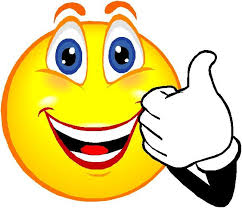 My local Walmart informed me yesterday that they just recently updated their computers to automatically deduct the maximum coupon amount!!  What this means is if your coupon states up to a $1.99 value, but the item is only priced at $1.18, when the cashier scans the coupon, it automatically takes off a $1.99!!  This is such a relief, when the cashier told me this, I wanted to do a happy dance!  It was so frustrating having to explain each time to the cashiers about Walmart accepting overage!  Hopefully your Walmart has updated their computers also, or at least will do so soon!
By Her Savings on March 12, 2013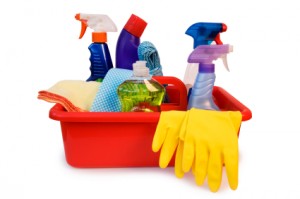 Since we are talking about Her (or His) Savings, I thought you might enjoy this list of homemade cleaning products I found today on Eversave.  Talk about saving money!  Those cleaning products can be expensive!  But, here are a few you can try at home for a fraction of the cost.
Homemade Cleaning Products
Homemade Glass and Window Cleaner
1 cup rubbing alcohol
1 cup water
1 tablespoon vinegar
Combine ingredients into a spray bottle, and voila – homemade Windex!
Tip: For a stronger version, sub in 1 tablespoon clear, non-sudsing ammonia for the 1 tablespoon of vinegar.
Homemade Furniture Polish
1 cup olive oil
1/2 cup lemon juice
Use a soft cloth and rub into your woodwork, wooden furniture and other wooden household items. It's DIY Pledge!
Homemade Multi-purpose Surface Cleaner
1 cup white vinegar
1 cup water
Works great on high-traffic kitchen countertops, back splashes and hard bathroom surfaces.
Tip: For tough spots, warm the solution in the microwave, apply to affected area and let stand for 15 minutes before wiping.
Homemade Abrasive Cleaner
3 parts baking soda
1 part water
Baking soda is great as an abrasive cleanser.
Tip: Combine it with dish detergent for a great stovetop cleaner with extra cleaning power.
Homemade Dishwasher Soap
1 part borax
1 part washing soda
Tip: Increase the washing soda if you have hard water.
Homemade Laundry Detergent
1 cup Ivory soap, shaved
1/2 cup washing soda
1/2 cup borax.
Use 1 tbsp for light loads; 2 tbsp for heavy loads.
Homemade Toilet Bowl Cleaner
1/4 cup baking soda
1 cup vinegar
Mix together and pour into basin. Let stand for a few minutes, then scrub with brush and rinse.
Tip: Alternate recipe: 2 parts borax and 1 part lemon juice.
Homemade Tub and Shower Cleaner
1 part white vinegar
1 part liquid blue Dawn
Heat vinegar in microwave and pour into squirt bottle. Add Dawn and shake gently to mix.
By Her Savings on January 28, 2013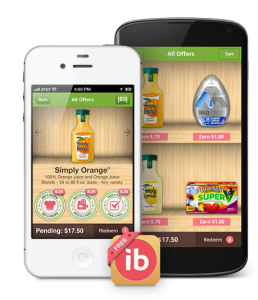 Chances are if you've been around the couponing world for awhile you've watched a huge revolution.  We've gone from clipping out a few items in Sunday's paper to coupon extremes–people hoarding 64 mustards in their stockpile just because it was a good price, and they don't even eat mustard!  But if you're like me, you're just trying to save a little money and stretch that dollar a little bit further for your family.
We've gone from the day that a Smart Phone was one that didn't tangle your legs up in the cord when you walked, to high-tech mobile devices.  These mobile devices seem to be the next wave of couponing.   With this is mind I'd like to tell you a little about apps like Ibotta.  This is a FREE app you can download to your mobile device.  It's easy to use and get you get cash back in your PayPal account, or you can donate your savings to any school of your choosing.    You search the "offers" they have up that will award you cash value.  You purchase the item specified.  You take a picture of your receipt showing your purchase.  You upload the receipt to Ibotta and within 24 hours they issue you PayPal credit or donate to the school of your choice.  It's that simple.
Currently, you can use this app together with printable coupons for even more savings!  You will need a mobile device to use.  If you'd like to sign up for FREE, just head over here and take a look.  I can't help but think apps like these are going to be the wave of couponing future.
By Her Savings on January 23, 2013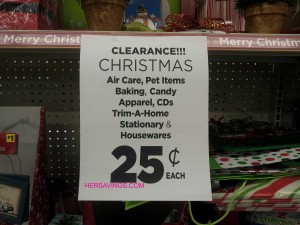 My local Dollar General has all Christmas items on sale for only $0.25 (Excluding Christmas Tree's)!!  So if you have a Dollar General near you, you might want to head over there and see if they might be having a sale as well!
This sale includes all air products, pet items, baking, candy, apparel, CD'S, Decorations, Stationary, Gift Wrap/Gift bags, Housewares & More!!  I picked up 4 adorable placemats and tons of gift bags and spent under $5.00!!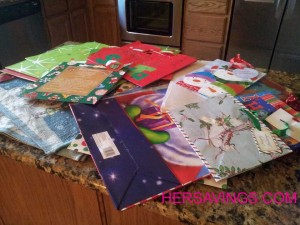 Even sweeter, you will receive a $5.00 off a $25.00 purchase coupon on your receipt that you can use this Saturday, Jan. 26th!  You can also use this coupon on clearance items!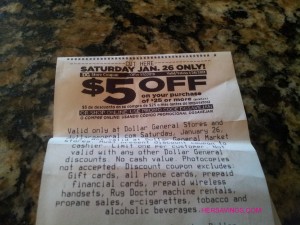 By Her Savings on July 15, 2011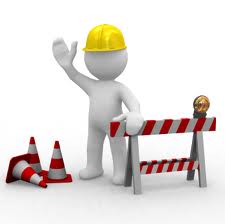 Hey everyone!!  I am super excited to tell you all of the updates we have been doing to HerSavings!  If you notice at the top, where the category tabs are, you can now hover your mouse over the category names and more category selections will appear!  I am hoping this will help make finding posts more easier, and make HerSavings more organized.

One thing I do need to mention, which has me very bummed out, is that during the updating, we lost all of the comments on the site.  I am sad about this, because I enjoyed reading each and every one of your comments.  So I want to apologize to each of you who took the time to comment on HerSavings.com.  We will just have to start new with the comments, as this could not have been avoided .
I am still working on moving the posts into their selected categories and we are also still working a few technical issues out, so please be patient with me!!
Thanks!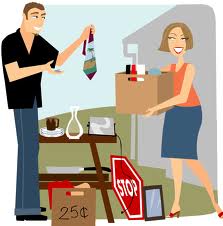 Let me tell you all, I had a crazy but absolutely fun weekend!
On Friday and Saturday, we had a garage sale for 3 different families at my home, it was crazy, hectic and loads of fun!!  So many people showed up, it was a mad house, I loved it!
My husband grilled hot dogs and sausage wraps and the kids sold lemonade.  I tried my best not to eat too many sausage wraps, but it was a challenge, they smelled so good on the grill!!  I did limit myself to 2 of them during the day!  This was the first time we sold food at a garage sale, and let me tell you, it was worth it!  We were selling food at 8 am, we started grilling at 7:30!
And, if that's not crazy enough, my 12 yr wedding anniversary was Sunday, so we decided to go out on Saturday night.  We were so worn out from the sale that we did not make it to the restaurant until 10:30 that night!  But, we had a nice, quiet time and even ran into friends that we have not seen in ages.  All in all, it was a wonderful evening!
We did end up selling almost everything we put into the garage sale, but for maybe a bucket of things.  Which is good, because I hate having to pack stuff up again!!
Before Friday, I checked out the Yard Sale Queen's website and found tons of helpful tips and even a few funny stories that had me shocked speechless!  So, if your wanting to have a yard/garage sale, I highly suggest checking out the Yard Sale Queen's website!
Do you go to garage sales or have you had one or planning to have one?  If so, I want to hear about it!

HerSavings.com is a cheerful and rewarding blog devoted to helping you save your hard earned money. Together, we will explore the best deals that will help us save more, spend less...and have fun doing it! So, grab yourself a cup of coffee, get comfortable and let the saving begin!
Read More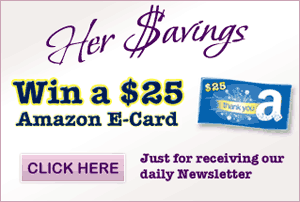 Albertsons
Bath & Body Works
CVS
Fred Meyer
HEB
Kmart
Kroger
old navy
Publix
Rite Aid
SafeWay
Target
Walgreens
Walmart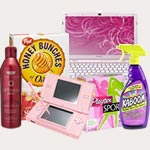 Daily Alerts
Welcome to HerSavings! If your new here, make sure you sign up to receive our Daily Newsletter! By signing up for the HerSavings.com newsletter, you will always stay up to date on the latest deals, coupons and freebies that are available! Sign up today and never miss out!