Blah Blah Blah and deals to help you save
By Stacy on August 1, 2018

Did you know that August 1st is celebrated as the Universal Birthday for Shelter Dogs?  Our very own Forrest was rescued from a shelter almost 4 years ago, and I could not imagine our life without him.
So to honor this month, perhaps consider doing at least one of the following:
1. Ask for birthday donations instead of gifts: Ask your friends and family to give donations to their local animal shelter instead of birthday presents, maybe you can raise enough money to buy warm beds for dogs, or even some play toys!  Even if it's not your birthday, you can still ask your friends and family to help with donations for your local animal shelter, I know your donations would be greatly appreciated!
2. Volunteer at your local animal shelter: If you find a shelter that will let you volunteer, you can walk dogs, clean up after the animals, refill water bowls, and give out toys and treats. Even just being there to pet cats and scratch dogs behind the ears will help them feel less lonely.
3. Adopt animals from shelters: Instead of buying them from pet stores or breeders, adopt animals from local shelters.  There are so many animals sitting in shelters just waiting for their forever home!
4. Foster an animal:  There are so many animals in need of a safe temporary place to hang out while they recover from an illness or injury, and some puppies and kittens need a quiet place to grow, away from the busy animal shelter. If you can commit your time and resources to foster an animal, you'll be helping two animals—the one you take into your home and another one who will get a place in the shelter.
This is a picture of our dog Forrest – we took this picture when we first brought him home from the shelter, almost 4 years ago: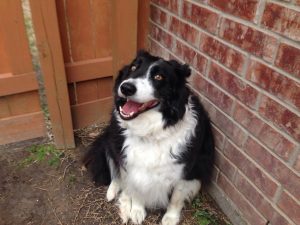 And here is a picture of Forrest now: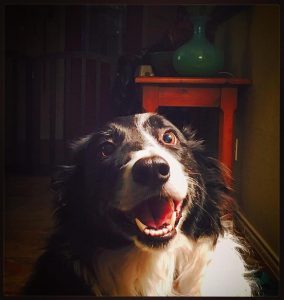 By Stacy on July 24, 2018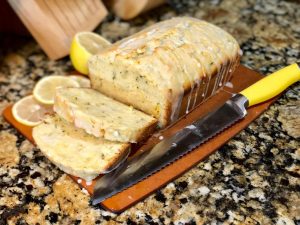 So I baked this cake last week. Baking is not something I am very good at, haha! But I wanted to try this lemon zucchini cake recipe from MomOnTimeout. The cake turned out perfectly, and although we think the cake is good, the zucchini gives it an interesting flavor that makes it different from what we are used to. It's like you can taste the zucchini with your first bite but that's okay because the cake is really delicious – so you keep eating it!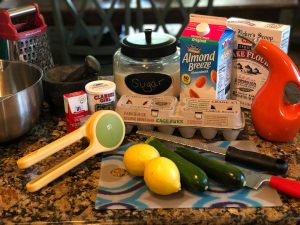 I really liked the simplicity of the ingredients, and I was shocked that no butter was used in this recipe…which made my thighs rejoice!!  And for those who are lactose intolerant, like my son, this recipe uses Almond milk!  But most importantly, this recipe is easy, which is really important to this non-baker haha!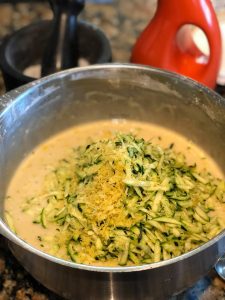 I doubled the recipe so I could make a separate cake for my parents, which they enjoyed as well.  I just divided the batter into two loaf pans evenly and baked them at the same time.  Both cakes did not last longer than 2 days, ya'll.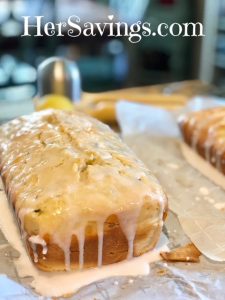 Here is the link to this scrumptious cake:  Lemon Zucchini Cake.  Try it.  And even if you slightly overbake the cake like I did, it's still really good!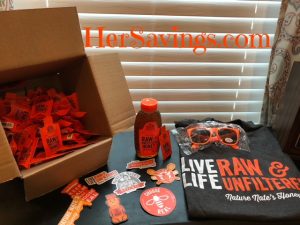 Every once in a while, I come across a company that goes above and beyond for their consumers.  Nature Nate's Honey is one of those companies.  This company truly cares about their products, and about the people buying their products.
Nature Nate's honey is a staple in our home.  My husband and I use it on our coffee every morning, we use it in baking, cooking, tea and when we have a cough or a sore throat, we take a spoonful of it and it really helps soothe our irritated throats.
Around Easter time, I posted about a sweepstake that Nature Nate's Honey was having (expired), and today I received a surprise thank you gift in the mail (see image above) just for sharing that sweepstake with all of you!!  Not every company is as caring as Nature Nate's!
So folks, if your store carries Nature Nate's Honey, definitely give it a try, it's one of the very best honey that I have tried!  And make sure you sign up for their facebook page so that you can be aware of all the fun promotions they have!  Click here to find a location that sells Nature Nate's near you.
Also, check out this scrumptious recipe for Honey-Seared Bacon-Wrapped Scallops, courtesy of Nature Nate's Honey!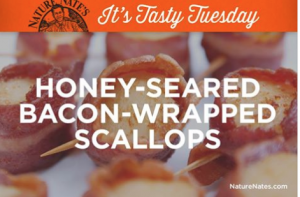 By Stacy on March 31, 2018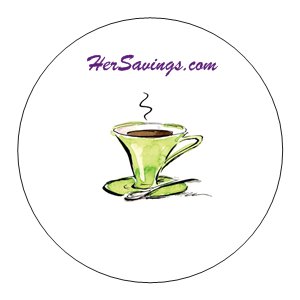 Hi everyone!  I have been swamped with emails and comments from people sending me their address in order for me to send them the samples/freebies that are offered on HerSavings.com.  So, I want to take a moment to clear up any confusion some folks may have because I don't want anyone to miss out on a freebie!  So grab yourself a cup of coffee and let's chat!
Offers; Who Sends Them and How Do I Find Them?
Each day, I search the internet to find the very best deals and freebies to post on HerSavings.com.  Another way that I get offers to post, is from companies sending me emails asking me to tell you all about sample/freebie/coupon/deals they are currently offering.  And I am also very grateful for the readers who email me to tell me about offers they have found and would like to share with all of us.
One misconception that a few people have is that I personally send out the freebies/coupons.  I find the offers,  but do not send the samples/freebies or coupons out to people, I only post the link to the website giving away the freebies.  Sending out the freebie is completely up to the company that is offering the freebie.
Companies like to give away samples and freebies mainly because they want you to try their product, like it, buy it, and tell all your friends about it.  Word of mouth is a huge deal and can be very beneficial to companies.  Another reason is for promotional reasons – they want you to sign up for their social network page or their newsletter, and to entice you into doing that, they will offer you a high-value coupon or a freebie.  I locate these offers and post them all in one, convenient place for you.
Legitimate Offers – No Scams Here!
I test each offer very thoroughly before I post it and I use my 15+ years of experience working in the freebie/coupon world to determine if the offer is a legit offer or a scam.  You will never find those horrible participation offers on HerSavings.com.  If I won't sign up for it, I won't post it.
Receiving Samples/Freebies:
I also want to point out that samples may or may not come, depending on if the company can fulfill the samples or for whatever reason they choose.  Some companies are not prepared for the number of freebie seekers who come to their site to request their freebie offer and they become overwhelmed, so they cancel a lot of their freebie requests – this happens quite regularly.  Companies give out a certain amount of freebies, sometimes they tell us how many, sometimes they don't.  Another reason is that most companies will not send freebies to P.O Boxes.  But I am happy to say that most times you will get the samples/freebies that you request.  I have gotten so many samples & freebies over the years, I could probably open a store with them if I had saved each one!
To sign up for a free sample, simply click on the link that I provided in the post then follow the instructions on the samples website.  I do my best to provide instructions on how to claim that freebie, but sometimes companies like to change it on us.
Normally it takes up to 8 weeks for a freebie to arrive in the mail, but it could take longer.  It all depends on the company sending out the freebie, when you signed up, and how many people signed up.
That Was Quick!
Freebie offers tend to run out VERY quickly!  I can post an offer for 20,000 freebies and the offer will be gone in less than 5 minutes, easily.  There are thousands upon thousands of freebie hunters out there, all wanting to score a freebie at the same time…including me, haha!  So for this reason, I try my very best to get these freebies on to the HerSavings.com website as quickly as possible!  I am constantly looking for new offers to post!  And remember, keep checking HerSavings.com throughout the day, because I add freebies/deals as they become available!
Another great way to stay up to date is by becoming a friend of ours on our Facebook Page  – when a new offer is put on HerSavings.com, I post an update on our Facebook Page!  Have a freebie buddy, and each time a new freebie becomes available, tag your facebook freebie buddy, and have them do the same for you!
And if you are a friend of ours on Facebook, make sure you give us a like and comment every once and awhile so that you will continue to see our posts!
Expired Offers:
When I post an offer, the offer is still active, but at any time an offer can change and become expired or even start charging S&H.  Sometimes I can just click on a link and know that offer is no longer valid.  Other times I will receive an email from the company, or a helpful HerSavings.com reader will update us and tell us the offer is over.  But, sometimes I won't know if an offer is still active or not because the company requires people to sign up for the offer – then they will tell them the offer is no longer available (such a pet peeve of mine!).  And when that last reason happens, I can't tell if the offer has expired because I originally signed up prior in order to test the offer, which means I can not sign up again.  It's times like this that I am so grateful for the HerSavings.com readers who keep us updated – so a huge THANK YOU to each of you!!
I do my very best to keep the site updated, but sometimes I do not know if an offer is expired right away.  If you see an offer that's expired, or a code or link no longer working, please send me an email, or comment on the post and I will update the offer asap – THANK YOU!!
Freebies are a great way to save money, and they make checking the mail so much more enjoyable!  It's nice to get those little surprises in the mail, not just the dreaded bills.
If you have questions regarding our newsletter, you can click here for more information.
Happy freebie hunting ya'll!
Stacy
The 'Her' in HerSavings!
By Stacy on January 30, 2018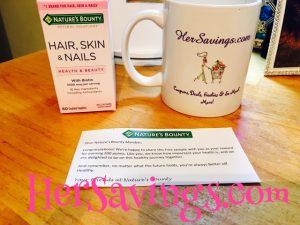 On December 14th, I posted about the benefits of joining Natures Bounty Rewards (you can see the post here), well yesterday my freebie arrived!  I was able to choose from a list of items of which product I would like to receive.  So if you have not signed up for Nature Bounty Rewards, I highly suggest you do so!
By Stacy on January 26, 2018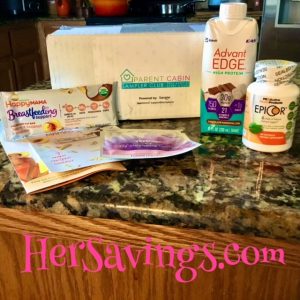 Almost a month ago, I posted an offer for a free box of samples courtesy of Sampler (click here to see the post).  Yesterday, my freebies arrived!  So if you signed up for this when it was posted on 12/21, then you can expect your box to arrive soon, if it has not already!
I just love getting free stuff in the mail!!
By Stacy on January 19, 2018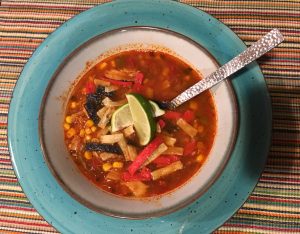 Slow Cooker Chicken Tortilla Soup is one of my very favorite soups to make, it's definitely a repeat meal in our home.  I even made this soup for my sister's wedding, and it was a huge hit.  The fact that this soup is super easy, so scrumptious and very inexpensive to make are all reasons why it's number one on my list of soups.
So with all that being said, I thought I would share with all of you the Slow Cooker Chicken Tortilla Soup that I use.  And although this recipe is absolutely perfect as it is, I make a few changes…
Instead of cooking my own chicken, I simply buy a rotisserie chicken that Walmart almost always has on clearance in their cold deli section.  This saves me time and money.  Usually, one chicken will do the job, but if you want more meat, you can always add two chickens.  I just take all the meat off the bone and toss the meat in the soup when I add all the other ingredients.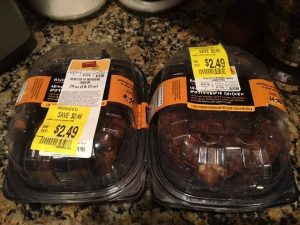 Instead of making my own tortilla chips, I buy the pre-made tortilla strips.  You can buy these at almost any grocery store for around $2.00 or less.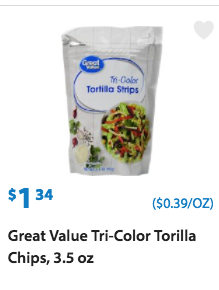 Folks, this soup is so good, and it freezes really well!  I like to use these containers here to freeze all my soups in, as they work wonderful – you can even use them in the microwave.  I am not getting paid to talk about these containers, I just really love them!

*I lay no claim to this recipe.  After trying different Chicken Tortilla Soup recipes, I found this one and absolutely loved the flavor!  I hope you enjoy it as much as we do!
By Stacy on November 28, 2017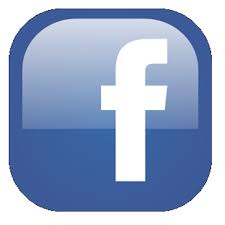 If you were a Facebook friend of HerSavings.com in the past, please make sure you 'Like' the HerSavings new facebook page.  Unfortunately, I had to start a new facebook page and for that reason, all our Facebook friends were lost.  You can click here to access our new page, and we really hope you do!
We will be having a lot of fun on Facebook, so if you have not already, I highly suggest you give our facebook page a 'Like' so that you will always be the first to know when new offers are posted on the HerSavings.com website and not miss out on the fabulous giveaways that we like to have!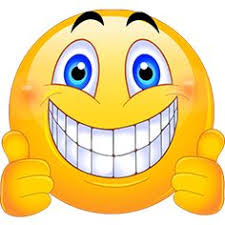 By Stacy on November 19, 2017
By Stacy on October 23, 2017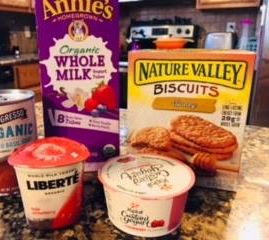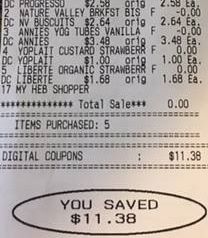 I just got back from a quick trip to my local HEB to snag my freebies! Unfortunately, HEB was sold out of the General Mills Blueberry Chex Cereal and the Nature Valley Granola Cups so I will have to keep checking back on those items. But, I was still able to score some goodies!!
You can check out the post here.

HerSavings.com is a cheerful and rewarding blog devoted to helping you save your hard earned money. Together, we will explore the best deals that will help us save more, spend less...and have fun doing it! So, grab yourself a cup of coffee, get comfortable and let the saving begin!
Read More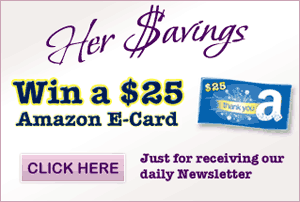 Albertsons
Bath & Body Works
CVS
Fred Meyer
HEB
Kmart
Kroger
old navy
Publix
Rite Aid
SafeWay
Target
Walgreens
Walmart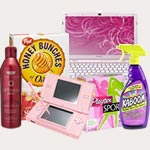 Daily Alerts
Welcome to HerSavings! If your new here, make sure you sign up to receive our Daily Newsletter! By signing up for the HerSavings.com newsletter, you will always stay up to date on the latest deals, coupons and freebies that are available! Sign up today and never miss out!