Recipes and deals to help you save
By Stacy on August 29, 2018
Learn how to make a variety of slow cooker dessert recipes using cake mix with this '16 To-Die-For Slow Cooker Cake Mix Recipes Free eCookbook'! In this free collection, you'll find delicious slow cooker cake mix recipes which include:
Chocolate Cake Mix Recipes (Examples: Gooey Chocolate Slow Cooker Cake, Chocolate Dump Cake, Chocolate Pound Cake)
Yellow Cake Mix Recipes (Examples: Cake Mix Apple Pie Coffee Cake, Peach and Berry Cake Mix Cobbler, Raspberry Lemon Cake)
White Cake Mix Recipes (Example: Coffee Caramel Cake)
More Cake Mix Recipes (Examples: German Chocolate cake, Carrot Cake, Angel Food, Lemon Cake, Pumpkin Angel Food Cake with Caramel Sauce, Red and Wild Cherry Torte, Key Lime Cake, Coconut Cake and more!)
These recipes are very simple to make, few ingredients and the best part, you don't have to use an oven!!
By Stacy on August 7, 2018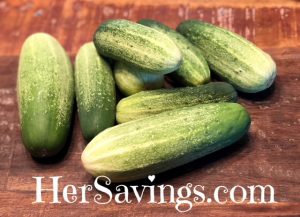 It's Recipe Tuesday so let's talk pickles!
My husband decided a few years ago to start gardening, and since then, he has brought in many delicious fruits and vegetables for us to enjoy.  Just recently he started growing cucumbers for pickling and I have been enjoying turning our bounty into delicious pickles.  After trying a few recipes, I came across a Garlic Jalapeño Dill Refrigerator Pickles recipe from Butter Your Biscuit and I have been hooked since.  This recipe is very versatile, you can add more garlic, less garlic, no jalapeno, more jalapeno, whatever works for you.  I have gotten many, and I mean a lot of compliments from these pickles!  I can't take all the credit though, Wendie over at Butter Your Biscuit really knows what she's talking about.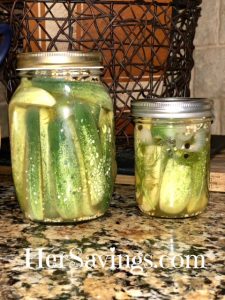 And as I have mentioned many times, I like easy…the easier the better and these pickles are super easy.  And folks, these pickles taste like I have mastered the art of pickling (lol), even though I am just a beginner, haha, they are that good ya'll.  Here's the handy-dandy link here to this pickling recipe.  Enjoy – hopefully they will last longer in your home than they do in mine!
By Stacy on July 31, 2018
It's recipe Tuesday so I want to talk about Chicken a la King…
When I think of comfort food, I think of Chicken a la King.  My dad, who rarely cooks (lol), would make Chicken a la King for us and it was so good, a real treat indeed.  As we got older, my mom would keep the Chicken a la King that came in a can on hand so that we could make ourselves a quick meal if needed, my sister and myself loved it…even from a can, haha!  Just recently, I had a craving for Chicken a la King, and when I asked my dad for his recipe, he could not remember how he made it, so I searched for a recipe and found one that sounded scrumptious and similar to what I grew up eating.  I found a recipe that looked like it was worth trying over at SpendWithPennies, which offers easy homecooked comfort meal recipes.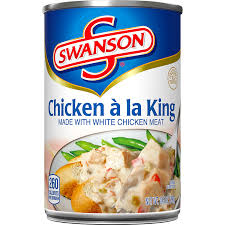 Now don't get me wrong, I still think Chicken a la King from a can is good (don't judge me, lol), but this recipe is so much better.  As you can see from my first photo above, I followed Holly's suggestion (from over at SpendWithPennies) and used the puff pastry instead of the toast that I grew up using and I am so glad that I did, it took the Chicken a la King to a whole other level, ya'll.  My local grocery store sells the puff pastry shells (located in the frozen desert isle) and they worked perfect…any way to make cooking easier, I am all for it!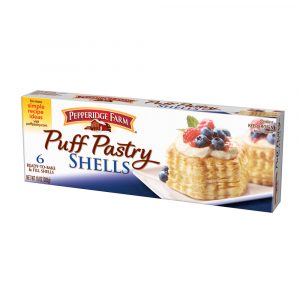 Click here to see the recipe that I made.  My whole family loved this meal, even my very picky eater asked for seconds.  And I love that it's done is the slow cooker because it's too hot here in Texas to be using the oven.  When I made this, I added 1 tablespoon of lemon juice because the very original recipe calls for lemon juice, and my dad remembers using lemon juice in his recipe as well.  Click here to read the history of this recipe and to see the original recipe that started it all.
I hope ya'll enjoy it!!
By Stacy on July 24, 2018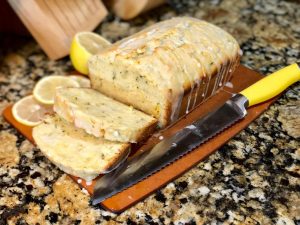 So I baked this cake last week. Baking is not something I am very good at, haha! But I wanted to try this lemon zucchini cake recipe from MomOnTimeout. The cake turned out perfectly, and although we think the cake is good, the zucchini gives it an interesting flavor that makes it different from what we are used to. It's like you can taste the zucchini with your first bite but that's okay because the cake is really delicious – so you keep eating it!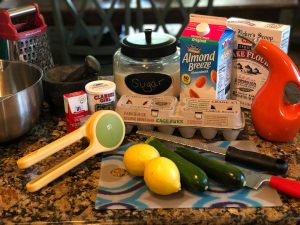 I really liked the simplicity of the ingredients, and I was shocked that no butter was used in this recipe…which made my thighs rejoice!!  And for those who are lactose intolerant, like my son, this recipe uses Almond milk!  But most importantly, this recipe is easy, which is really important to this non-baker haha!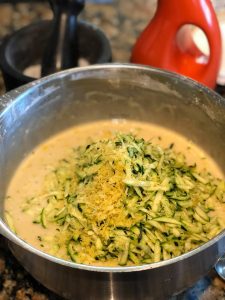 I doubled the recipe so I could make a separate cake for my parents, which they enjoyed as well.  I just divided the batter into two loaf pans evenly and baked them at the same time.  Both cakes did not last longer than 2 days, ya'll.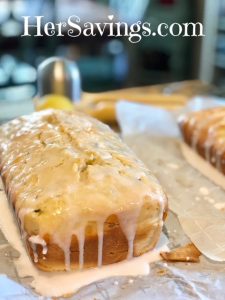 Here is the link to this scrumptious cake:  Lemon Zucchini Cake.  Try it.  And even if you slightly overbake the cake like I did, it's still really good!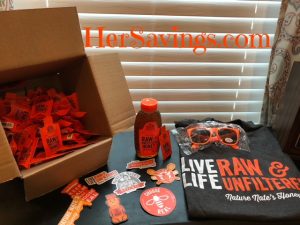 Every once in a while, I come across a company that goes above and beyond for their consumers.  Nature Nate's Honey is one of those companies.  This company truly cares about their products, and about the people buying their products.
Nature Nate's honey is a staple in our home.  My husband and I use it on our coffee every morning, we use it in baking, cooking, tea and when we have a cough or a sore throat, we take a spoonful of it and it really helps soothe our irritated throats.
Around Easter time, I posted about a sweepstake that Nature Nate's Honey was having (expired), and today I received a surprise thank you gift in the mail (see image above) just for sharing that sweepstake with all of you!!  Not every company is as caring as Nature Nate's!
So folks, if your store carries Nature Nate's Honey, definitely give it a try, it's one of the very best honey that I have tried!  And make sure you sign up for their facebook page so that you can be aware of all the fun promotions they have!  Click here to find a location that sells Nature Nate's near you.
Also, check out this scrumptious recipe for Honey-Seared Bacon-Wrapped Scallops, courtesy of Nature Nate's Honey!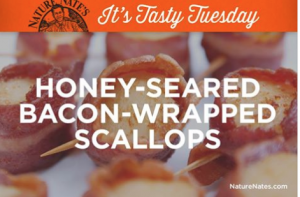 By Stacy on January 19, 2018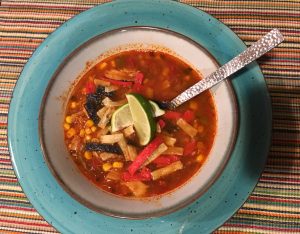 Slow Cooker Chicken Tortilla Soup is one of my very favorite soups to make, it's definitely a repeat meal in our home.  I even made this soup for my sister's wedding, and it was a huge hit.  The fact that this soup is super easy, so scrumptious and very inexpensive to make are all reasons why it's number one on my list of soups.
So with all that being said, I thought I would share with all of you the Slow Cooker Chicken Tortilla Soup that I use.  And although this recipe is absolutely perfect as it is, I make a few changes…
Instead of cooking my own chicken, I simply buy a rotisserie chicken that Walmart almost always has on clearance in their cold deli section.  This saves me time and money.  Usually, one chicken will do the job, but if you want more meat, you can always add two chickens.  I just take all the meat off the bone and toss the meat in the soup when I add all the other ingredients.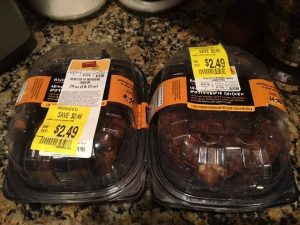 Instead of making my own tortilla chips, I buy the pre-made tortilla strips.  You can buy these at almost any grocery store for around $2.00 or less.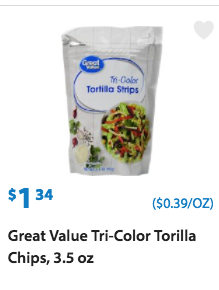 Folks, this soup is so good, and it freezes really well!  I like to use these containers here to freeze all my soups in, as they work wonderful – you can even use them in the microwave.  I am not getting paid to talk about these containers, I just really love them!

*I lay no claim to this recipe.  After trying different Chicken Tortilla Soup recipes, I found this one and absolutely loved the flavor!  I hope you enjoy it as much as we do!
HerSavings.com is a cheerful and rewarding blog devoted to helping you save your hard earned money. Together, we will explore the best deals that will help us save more, spend less...and have fun doing it! So, grab yourself a cup of coffee, get comfortable and let the saving begin!
Read More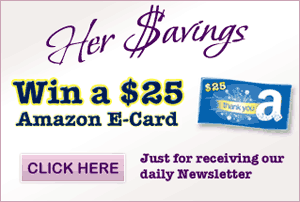 Albertsons
Bath & Body Works
CVS
Fred Meyer
HEB
Kmart
Kroger
old navy
Publix
Rite Aid
SafeWay
Target
Walgreens
Walmart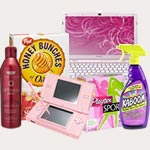 Daily Alerts
Welcome to HerSavings! If your new here, make sure you sign up to receive our Daily Newsletter! By signing up for the HerSavings.com newsletter, you will always stay up to date on the latest deals, coupons and freebies that are available! Sign up today and never miss out!