Let's Chat About Freebies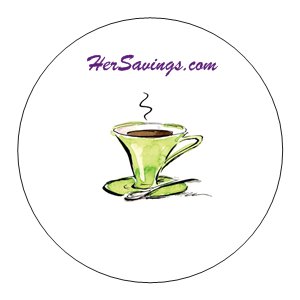 Hi everyone!  I have been swamped with emails and comments from people sending me their address in order for me to send them the samples/freebies that are offered on HerSavings.com.  So, I want to take a moment to clear up any confusion some folks may have because I don't want anyone to miss out on a freebie!  So grab yourself a cup of coffee and let's chat!
Offers; Who Sends Them and How Do I Find Them?
Each day, I search the internet to find the very best deals and freebies to post on HerSavings.com.  Another way that I get offers to post, is from companies sending me emails asking me to tell you all about sample/freebie/coupon/deals they are currently offering.  And I am also very grateful for the readers who email me to tell me about offers they have found and would like to share with all of us.
One misconception that a few people have is that I personally send out the freebies/coupons.  I find the offers,  but do not send the samples/freebies or coupons out to people, I only post the link to the website giving away the freebies.  Sending out the freebie is completely up to the company that is offering the freebie.
Companies like to give away samples and freebies mainly because they want you to try their product, like it, buy it, and tell all your friends about it.  Word of mouth is a huge deal and can be very beneficial to companies.  Another reason is for promotional reasons – they want you to sign up for their social network page or their newsletter, and to entice you into doing that, they will offer you a high-value coupon or a freebie.  I locate these offers and post them all in one, convenient place for you.
Legitimate Offers – No Scams Here!
I test each offer very thoroughly before I post it and I use my 15+ years of experience working in the freebie/coupon world to determine if the offer is a legit offer or a scam.  You will never find those horrible participation offers on HerSavings.com.  If I won't sign up for it, I won't post it.
Receiving Samples/Freebies:
I also want to point out that samples may or may not come, depending on if the company can fulfill the samples or for whatever reason they choose.  Some companies are not prepared for the number of freebie seekers who come to their site to request their freebie offer and they become overwhelmed, so they cancel a lot of their freebie requests – this happens quite regularly.  Companies give out a certain amount of freebies, sometimes they tell us how many, sometimes they don't.  Another reason is that most companies will not send freebies to P.O Boxes.  But I am happy to say that most times you will get the samples/freebies that you request.  I have gotten so many samples & freebies over the years, I could probably open a store with them if I had saved each one!
To sign up for a free sample, simply click on the link that I provided in the post then follow the instructions on the samples website.  I do my best to provide instructions on how to claim that freebie, but sometimes companies like to change it on us.
Normally it takes up to 8 weeks for a freebie to arrive in the mail, but it could take longer.  It all depends on the company sending out the freebie, when you signed up, and how many people signed up.
That Was Quick!
Freebie offers tend to run out VERY quickly!  I can post an offer for 20,000 freebies and the offer will be gone in less than 5 minutes, easily.  There are thousands upon thousands of freebie hunters out there, all wanting to score a freebie at the same time…including me, haha!  So for this reason, I try my very best to get these freebies on to the HerSavings.com website as quickly as possible!  I am constantly looking for new offers to post!  And remember, keep checking HerSavings.com throughout the day, because I add freebies/deals as they become available!
Another great way to stay up to date is by becoming a friend of ours on our Facebook Page  – when a new offer is put on HerSavings.com, I post an update on our Facebook Page!  Have a freebie buddy, and each time a new freebie becomes available, tag your facebook freebie buddy, and have them do the same for you!
And if you are a friend of ours on Facebook, make sure you give us a like and comment every once and awhile so that you will continue to see our posts!
Expired Offers:
When I post an offer, the offer is still active, but at any time an offer can change and become expired or even start charging S&H.  Sometimes I can just click on a link and know that offer is no longer valid.  Other times I will receive an email from the company, or a helpful HerSavings.com reader will update us and tell us the offer is over.  But, sometimes I won't know if an offer is still active or not because the company requires people to sign up for the offer – then they will tell them the offer is no longer available (such a pet peeve of mine!).  And when that last reason happens, I can't tell if the offer has expired because I originally signed up prior in order to test the offer, which means I can not sign up again.  It's times like this that I am so grateful for the HerSavings.com readers who keep us updated – so a huge THANK YOU to each of you!!
I do my very best to keep the site updated, but sometimes I do not know if an offer is expired right away.  If you see an offer that's expired, or a code or link no longer working, please send me an email, or comment on the post and I will update the offer asap – THANK YOU!!
Freebies are a great way to save money, and they make checking the mail so much more enjoyable!  It's nice to get those little surprises in the mail, not just the dreaded bills.
If you have questions regarding our newsletter, you can click here for more information.
Happy freebie hunting ya'll!
Stacy
The 'Her' in HerSavings!
HerSavings.com is a cheerful and rewarding blog devoted to helping you save your hard earned money. Together, we will explore the best deals that will help us save more, spend less...and have fun doing it! So, grab yourself a cup of coffee, get comfortable and let the saving begin!
Read More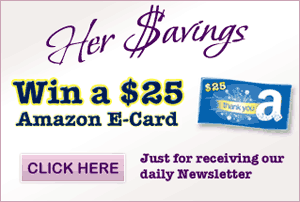 Albertsons
Bath & Body Works
CVS
Fred Meyer
HEB
Kmart
Kroger
old navy
Publix
Rite Aid
SafeWay
Target
Walgreens
Walmart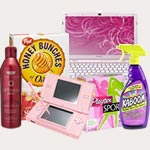 Daily Alerts
Welcome to HerSavings! If your new here, make sure you sign up to receive our Daily Newsletter! By signing up for the HerSavings.com newsletter, you will always stay up to date on the latest deals, coupons and freebies that are available! Sign up today and never miss out!