Survey Sites and promos to help you save
By Her Savings on January 28, 2013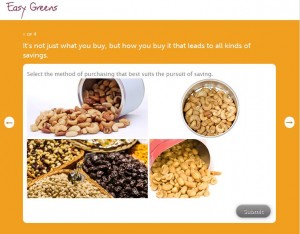 To add more points to your RecycleBank account, just login or register at Recyclebank.  After doing so, head to the Easy Greens link here and go through the boxes earning up to 40 FREE RecycleBank points!
RecycleBank points can be used to get awesome rewards, such as high value coupons, magazines, gift cards and so much more!
By Her Savings on November 30, 2011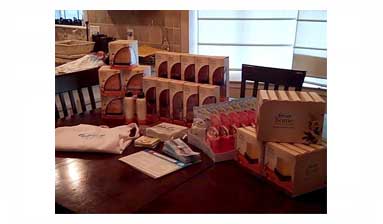 There are MANY survey & product testing sites out there, and this is the best way to score the most awesome free stuff!  I have been a member to these sites for a long time and I can not even begin to tell you how many goodies I have received!  Pictured above is just one of the party packs that I received from HouseParty featuring Febreze products!!
So I have put together a list of the best sites to sign up with!  Make sure you keep checking your emails daily to see if you have received any offers!!
Members get access to fun, thought-provoking experiences and explore products and services.
Vocal Point is well known for sending out coupons for free products and samples for members to try.
A House Party is thousands of parties across the country, hosted by people like you. Each event is sponsored by a leading brand and focuses on something cool that the sponsor wants its best fans to experience firsthand and share with their friends.
Become a All You Reality Checker and have opportunities to test products and give your ideas!
What is a BzzAgent, exactly?
Agents are everyday consumers who believe in honest word of mouth. In other words, they like to:
Discover and check out new products, services, books and other cool stuff
Share their honest opinions with people they know
Become a Nesquik Shaker by answering a few questions in exchange, NESQUIK Shakers can receive coupons for free product and promotional items to share with family, friends, co-workers, and their community.
Good Housekeeping Product Testing
To join the GH Product Tester panel, you must live in the USA excluding Alaska, Hawaii and Puerto Rico. You must also be at least 18 years of age. The cost would just be too prohibitive to mail products to people outside the the lower 48 states.
You will have products mailed to you to test and keep.
SheSpeaks gives you many ways to have a say, including… testing products to inspire the companies who created them.
As a member of the Brew Crew, you can receive complimentary samples of COFFEE-MATE to share with friends, as well as the opportunity to earn points you can redeem for great rewards such as gift cards, merchandise, and more
TASTER'S CHOICE product testers
The Tasters are a group of influential and active adults that help spread the word about NESCAFÉ TASTER'S CHOICE. This elite team also provides feedback on NESCAFÉ TASTER'S CHOICE products, promotions and marketing efforts as well as trends in the marketplace. In exchange, Tasters can receive promotional items, samples, and coupons
As part of this Panel, you will be contacted from time to time by email and/or mail, and asked to…
Read Harlequin® books and give your opinions (the books will be sent to you free of charge and are yours to keep with no obligation to purchase anything!)
Share your opinions on book covers
Give your opinions on new book ideas…and much more
*Personal Note…I am a member to the Harlequin Panel and have received many free books, not only for me, but for my friends as well!  The surveys are simple and never once have they asked me to purchase anything!
McCormick Consumer Testing Panel
Testing opportunities may include attending sessions during the day or evening hours in Hunt Valley, Maryland, preparing and tasting products at home, or completing Internet surveys. Monetary compensation is provided based on test type and duration. Individuals may participate up to four times per year.
Tide Development Team
Share opinions and from time to time you may also receive information about product samples, research opportunities
The ALL NEW Velvet Rope Club is Marie Claire's exclusive insiders' society for women to express their valuable opinions. You'll have the opportunity to share your thoughts on everything from the newest 'it' bag to your favorite shade of lipstick. Velvet Rope Club members are also given exclusive access to special offers, insider events, sweepstakes, and more.
Join the UTZ Tasting Club and Try New Products
Become a part of the Utz Team! When the need arises, you may be called on to taste and comment on a new product or flavor before it goes to market. Simply complete the form provided and submit to join the UTZ Tasting Club.
This elite group provides feedback on JUICY JUICE products, promotions and marketing efforts as well as trends in the marketplace. As part of their involvement, members of the Juicy Bunch can receive promotional items, samples, and coupons to share with other parents in their community.
Harlequin has just launched a Teen Research Panel for young readers ages 13 to17 who are U.S residents..
This panel will be similar to Tell Harlequin research panel in that it is strictly for research purposes and we will not try to sell your teen anything or sell their information to third parties. Teens will be asked to fill out fun quizzes; they'll participate in discussions and will also receive FREE books (approximate retail value of $10-$15 per book?) and have a chance to enter into sweepstakes (with your permission).
Once you have given consent as well as your teen's email address, name, age and country of residence we will email your teen and ask them to complete our first quiz to see if they qualify for our panel. If your teen qualifies, another email will be sent to you with a link to our Panel Consent Form.
Kid's II Generation Mom Network
As a member, you will be contacted by email once or twice a month over the course of a year and be asked to provide your opinions and insights on a variety of exciting topics. On occasion, you may also have the opportunity to test new Kids II products in your home!
MAP is a group of consumers willing to share their opinions about food with General Mills. By joining MAP and participating in our projects, you will have the opportunity to influence the look, taste, and experience of General Mills and Small Planet Foods products.
Also, while your on the General Mills site, make sure to sign up for this…
Join General Mills MyGetTogether Program
Do you enjoy hosting? Do you like trying the latest products and sharing them with friends? Then MyGetTogether is right for you!  And it is easy to participate.
To participate in MyGetTogether, you will need to be a member of General Mills' Pssst… network. Pssst… lets you try new products, take part in surveys, get exclusive, behind-the-scene looks at the company, as well as coupons from General Mills' many brands.
Mom Tester
Parenting needs your opinion! Sign up for a chance to be a Mom Tester and review toys, beauty products, baby gear and more.
The purpose of the CVS Advisor Panel is to solicit your input about CVS stores, products and services, and to obtain your suggestions for how we can improve CVS. Throughout the year, CVS will send you invitations to participate in online surveys about CVS products and services. CVS thanks you for your time by crediting your ExtraCare account with $5, $10 or $15 in ExtraBucks.
Oprah Magazine~Become a DevOtee
Join an elite group of DevOtees who we turn to for opinions on things that matter most. As a DevOtee, you will be asked to share your opinions several times a year through online surveys, and you'll have a chance to win great prizes.
By participating in the Wear Test program, you can help New Balance and its family of brands make its products fit, look and perform better. Pick the brand you want to test (NB, PF Flyer, Dunham, Aravon, Warrior or Brine)
Covergirl Consumer Advisory Panel
Join the Covergirl Consumer Advisory Panel and over the next year or so, they will ask you to participate in on-line discussions, surveys, and perhaps even product use panels! Just complete the online form to sign up!
By joining the panel, you'll be able to share your opinions with Seventeen on what matters to you. If you are selected as a Seventeen Actionista panel member, you will be asked to share you opinions several times a year through online surveys and you'll have a chance to win great prizes.
Share your opinion and communicate with other beauty enthusiasts like yourself. Be the first to learn about and try new products. Attend special Allure events in your area & be entered for a chance to win prizes from Allure each time you complete a survey.
L'Oreal Product Testing Panel
L'Oreal USA Consumer Participation Program-Do Surveys And The Chance To Test Products!
Persons who are selected as panelists will receive a trip to Walt Disney World Resort to participate in training for this exciting program!
Kiwi Parents' Advisory Board Product Evaluation
KIWI is now accepting applications for our Parents' Advisory Board
We'll use this important panel to help us shape KIWI Magazine into the best parents' publication available. Additionally, we'll ask our panel to help evaluate products and services targeted at families like yours; so that they, too, can meet your exacting standards.
Cover FX Inner Circle Of Friends
Join our online Cover FX Inner Circle of Friends
Every month you can :
Create flawless complexions with friendly HOW-TO foundation tips and your custom foundation plan.
Inspire friends to 'Put Your Best Face Forward'
Receive exclusive coupons, gifts, and sample offers
Chat with Lee Graff and widen your circle of friends
Learn behind-the-scenes art of correction and runway complexion trends
E-clips news keeps all inner circle of friends in-the-know: What's new + What's hot!
Join now to get a bunch of fun for you and the kids, including a smattering of samples and a variety of values that'll keep your family happy throughout the year!
KRAFT First Taste – Try New Products
Love to check out new products and talk about them with your friends? As a member of the First Taste community, you'll be the first to discover and learn about new Kraft products.
Glamour Magazine Product Testing
Hey Glamspotter!
How would you like an exclusive sneak peek at brand new products not yet available in stores? We're calling on you to experience these exciting new products and give us your feedback. For your participation, you'll enjoy full-sized products to try. To express your interest in participation, please click on the link to our preliminary survey.
Try The Latest Beauty Products & Tasty Treats From O At Home!
Now this is interesting….O At Home (Oprah) has announced that they will be giving away goodies including some of the latest beauty products to tasty treats and everything in between.  I am intrigued already!
This is whats stated on the O At Home website:
WHAT IS IT?
An opportunity for real women like you to enhance your gatherings with friends and family with some of the latest and greatest products from O and our advertisers—FREE!
HOW DOES IT WORK?
Already belong to a book club? Have weekly get-togethers with the girls? Spend quality time with fellow moms? However you connect with your social circle (and we know that you do), we'll make your next gathering even more special by providing must-have products from O's advertisers. From the latest beauty products to tasty treats and everything in between, we'll send you a collection of free goodies just for you and your friends. You'll also get the chance to give us your feedback on the products we send you.
I don't know about you all, but I am curious to see what O At Home will be giving away! 
*You do have to be selected for this and upload a picture.  Let us know if you get chosen!  Good Luck!
HerSavings.com is a cheerful and rewarding blog devoted to helping you save your hard earned money. Together, we will explore the best deals that will help us save more, spend less...and have fun doing it! So, grab yourself a cup of coffee, get comfortable and let the saving begin!
Read More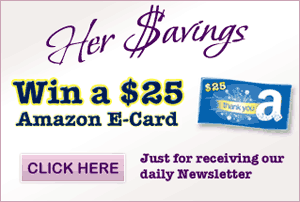 Albertsons
Bath & Body Works
CVS
Fred Meyer
HEB
Kmart
Kroger
old navy
Publix
Rite Aid
SafeWay
Target
Walgreens
Walmart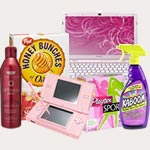 Daily Alerts
Welcome to HerSavings! If your new here, make sure you sign up to receive our Daily Newsletter! By signing up for the HerSavings.com newsletter, you will always stay up to date on the latest deals, coupons and freebies that are available! Sign up today and never miss out!