Free Birthday Meals and deals to help you save
By Stacy on April 24, 2018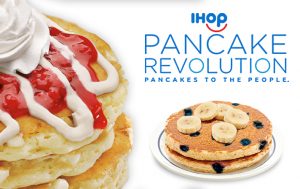 If you have an IHOP near you, and like FREE pancakes, I suggest you join IHOP's Pancake Revolution rewards program! Just for signing up, you'll receive a FREE meal! Even sweeter, you'll also get a FREE meal on your birthday, AND on your 1-year anniversary of joining the Pancake Revolution!  You'll receive your first coupon via e-mail within 24 hours!
By Stacy on April 17, 2018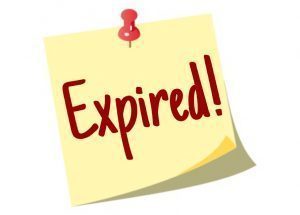 Now through April 22nd, Red Robin is hosting a Red Robin Royalty Members Appreciation Week, which means FREE food!  It is free to become a Red Robin Royalty Member and even sweeter, you will get a FREE burger during your birthday month just for being a member!
Here is the giveaway schedule:
Monday, April 16 – FREE Milkshake w/ $10 purchase
Tuesday, April 17 – FREE Tavern Burger w/ $10 purchase
Wednesday, April 18 – FREE Dessert w/ $10 purchase
Thursday, April 19 – FREE Kids Meal w/ $10 purchase
Friday, April 20 – FREE Appetizer w/ $10 purchase
Saturday, April 21 – FREE Appetizer w/ $10 purchase
Sunday, April 22 – FREE Appetizer w/ $10 purchase
Enjoy!
By Stacy on January 1, 2017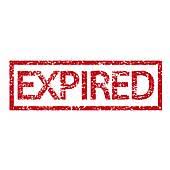 All the offers after this post are expired – but feel free to look around!  It's kind of neat to see what kind of freebies were being offered 4 years ago!
HerSavings.com is updated daily, except for those 4 years I took a break to work on another site!  So, yes, I have a lot of catching up to do…and a little more dusting…..haha!
And let me just say, it is so good to be back!
By Stacy on September 17, 2013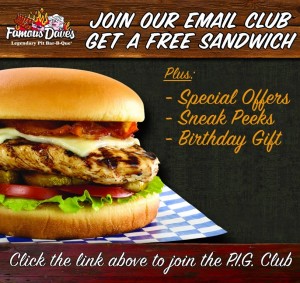 Sign up for the Famous Dave's Email Club to get a coupon for a free burger or sandwich plus special offers, sneak peeks & a birthday gift!
Your coupon should arrive via email within 24 hours.
By Stacy on September 9, 2013
Join the Pickle Club and get a free entree on your birthday from Spicy Pickle – no purchase necessary!  And as a Pickle Club member, not only will you get hooked up on your birthday, but also on the anniversary of signing up and they might just throw you a little something extra (like a coupon for one free bag of chips with the purchase of any entree), just to say "Welcome"!
By Stacy on February 25, 2013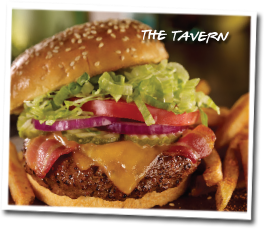 Goodness, that burger looks yummy!!
Register for a Fox & Hound / Bailey's Free All-Star Club Card to snag a FREE Burger or Sandwich!
An Email confirmation will be sent to you in your inbox, so make sure to click on it. You'll also receive a free entree on your birthday.
Offer expires 14 days from when you register.
By Stacy on August 10, 2011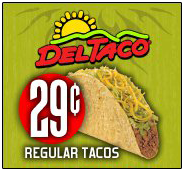 WOW!!  If you have a Del Taco near you, then today you will be able to score a very cheap meal for either yourself or your family!!
Del Taco is hosting a Customer Appreciation Event, today August 10 from 3PM-8PM and will be offering regular tacos for only $0.29 each!!  And since you can order up to 12 tacos per customer, you can score a meal for a group of people for just under $4.00!!  WOW!!
* Limit 12 per customer, Only available from 3PM-8PM on August 10th
Keep in mind that this is only available at participating Del Taco restaurants.  For a list of restaurants that are NOT participating click here.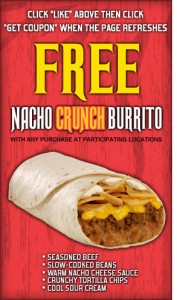 And make sure to 'Like' them on facebook because you will score a coupon good for a FREE Nacho Crunch Burrito with ANY purchase!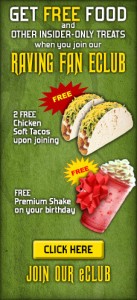 Also, sign up for Del Taco's Raving Fan eClub here to snag 2 FREE Chicken Soft Taco's!!
By alexbet on January 10, 2011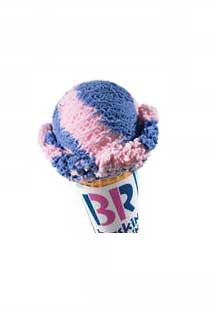 By signing up for the Baskin-Robbins eClub, you will treat yourself to special discounts, personalized offers and tons of sprinkles — all year long!
HerSavings.com is a cheerful and rewarding blog devoted to helping you save your hard earned money. Together, we will explore the best deals that will help us save more, spend less...and have fun doing it! So, grab yourself a cup of coffee, get comfortable and let the saving begin!
Read More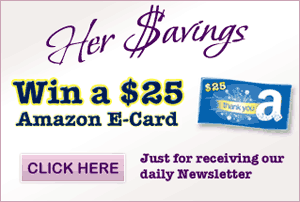 Albertsons
Bath & Body Works
CVS
Fred Meyer
HEB
Kmart
Kroger
old navy
Publix
Rite Aid
SafeWay
Target
Walgreens
Walmart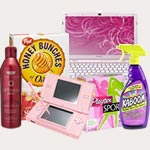 Daily Alerts
Welcome to HerSavings! If your new here, make sure you sign up to receive our Daily Newsletter! By signing up for the HerSavings.com newsletter, you will always stay up to date on the latest deals, coupons and freebies that are available! Sign up today and never miss out!